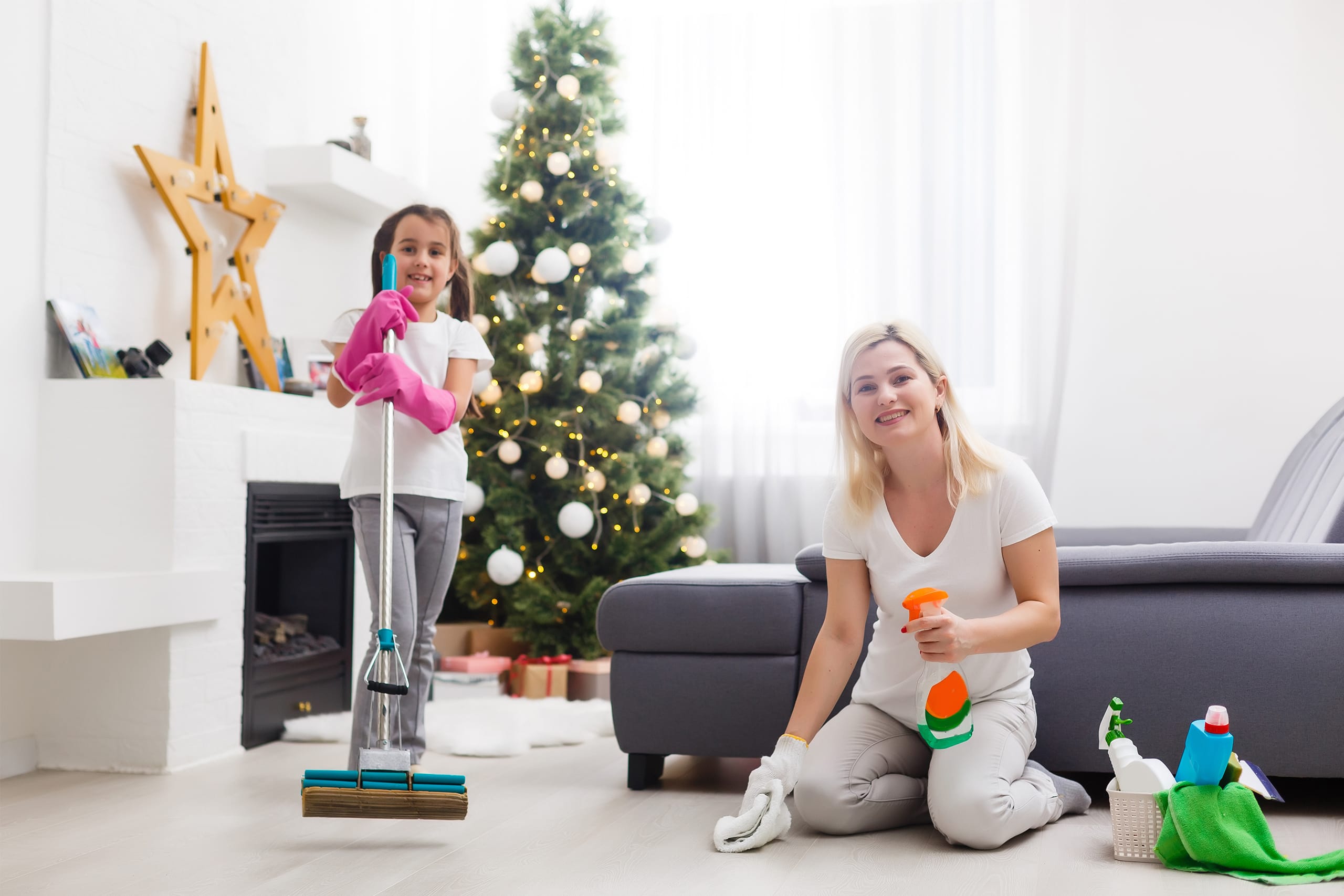 YOUR HOLIDAY CLEANING CHECKLIST
There's a sense of excitement that comes when the holidays are just around the corner. But if you're expecting a house full of guests, you might also feel a twinge of dread thinking about cleaning up and decorating in preparation. We put together a checklist that can help you get a handle on holiday cleaning by organizing your tasks room by room.
BEFORE YOU START
If you don't have much time, spend a few minutes thinking about what rooms your guests will use most and focus your energy there. Closed bedroom doors can help deter guests from wandering and will give you peace of mind that you don't have to have every room perfect. If you're planning at least a month in advance, spread out your tasks to keep them from overwhelming you.
GET THEM IN THE FRONT DOOR
Think about how guests will move through your home during their visit. They'll most likely start by coming up your driveway and walkway. Make sure these areas are ready for lots of foot traffic:
• Shovel the driveway and sidewalk if you've had recent snow or ice and place down ice melt to prevent people from slipping or falling.
• Sweep leaves and debris off the front stoop.
•​​​​​​​ Check that your porchlight and doorbell are in good working order.
•​​​​​​​ Make sure your welcome mat is in good shape to handle lots of wet feet.
MAKE A WELCOMING ENTRY
The inside entry of your home sets the tone when greeting guests. Clear out any clutter from your entry hall to accommodate guests who arrive in large groups. Remove any of your family's extra coats, shoes, or boots and put them in temporary storage somewhere in your home so there is ample space for guests to drop their things. Make sure that you've got a spot designated for your guests' shoes so they don't wear them throughout your home.
LET THE LIVING ROOM SHINE
The living room is likely to be the place where most of your holiday decorations will be displayed. Let this area be the focal point of your home during your time hosting.
•​​​​​​​ Remove any clutter to make the room feel more inviting. While a home that feels lived in can seem cozy, guests don't want to feel like they're intruding on your space.
•​​​​​​​ Sweep or vacuum your living room flooring and remove any stains that you might discover.
•​​​​​​​ Fluff cushions and pillows and fold and stow throws and blankets.
•​​​​​​​ Make sure the coffee and end tables have plenty of coasters to quietly discourage your guests from placing their glasses directly on the furniture.
A DELIGHTFUL DINING ROOM AND KITCHEN
The kitchen and dining room (aka the places with the food!) will be a hub of activity. Make sure you create a space that can entertain your guests and serve as the command center for you as the host.
•​​​​​​​ Clear the countertops of any mail or other clutter and leave out only those appliances that might be needed while entertaining,like a blender or slow cooker.
•​​​​​​​ Place a clean tablecloth on the dining table and dust off the buffet.
•​​​​​​​ Clean any dirty dishes and empty the dishwasher often so you can refill as people finish with their plates and glasses.
•​​​​​​​ Make room in the fridge for dishes that guests might bring or to give a home to leftovers at the end of the night.
•​​​​​​​ Put out clean towels and make sure you have plenty of paper towels to clean up any spills or messes with ease.
•​​​​​​​ Dust the tops of your fan blades.
•​​​​​​​ Dust or wash your curtains, valances, shades, or blinds.
•​​​​​​​ Depending on what type of flooring you have in either room, care for the flooring by vacuuming, sweeping, or mopping.
IN THE BATHROOM
Pay particular attention to the cleanliness of your bathrooms as you prepare for a holiday party. Guests will feel more welcome and comfortable in a bathroom that looks and feels clean and sanitary.
•​​​​​​​ Scrub the toilet and wipe down the sink and bathtub.
•​​​​​​​ Sweep or mop the floor, making sure to get around your toilet.
•​​​​​​​ Clean the mirror.
•​​​​​​​ Make sure there is enough soap, toilet paper, and tissue.
•​​​​​​​ Put out fresh hand towels and a clean rug or bathmat.
•​​​​​​​ Place a candle with matches, some wet wipes, and lotion that your guests might appreciate.
FOR BEAUTIFUL BEDROOMS
Whether you have guests who will spend the night or you're simply using the room as a place to store coats, it's good to have at least one bedroom that you don't mind guests going into.
•​​​​​​​ Vacuum, dust, and declutter the space so knick-knacks are as minimal as possible.
•​​​​​​​ Make the bed with fresh linens.
• For overnight guests, leave out fresh towels and perhaps a couple interesting books or magazines for pre-bedtime reading.
THE FINAL TOUCHES
Once you have the rooms ready, take a deep breath and appreciate how your hard work has made for a lovely home. Then, set the ambiance for the party by putting on some music and setting the thermostat to a comfortable temperature. Light a fire and bake some cookies to add an extra dose of warmth and holiday cheer. Now, wait for that first doorbell to signal that your guests are arriving! If your home needs new flooring to spruce things up before you entertain this holiday season, Goshen Floor Mart can help add life to any room. Whether you're looking for carpet, laminate, or wood flooring, we can help you choose an option that will complement your home. We're always happy to provide you with a free estimate. Call us today at 574-642-4770.

If you're in the market for flooring feel free to contact Goshen Floor Mart. Remember, we are always happy to provide you with a free estimate. Call us today at 574.642.4770 or contact us here