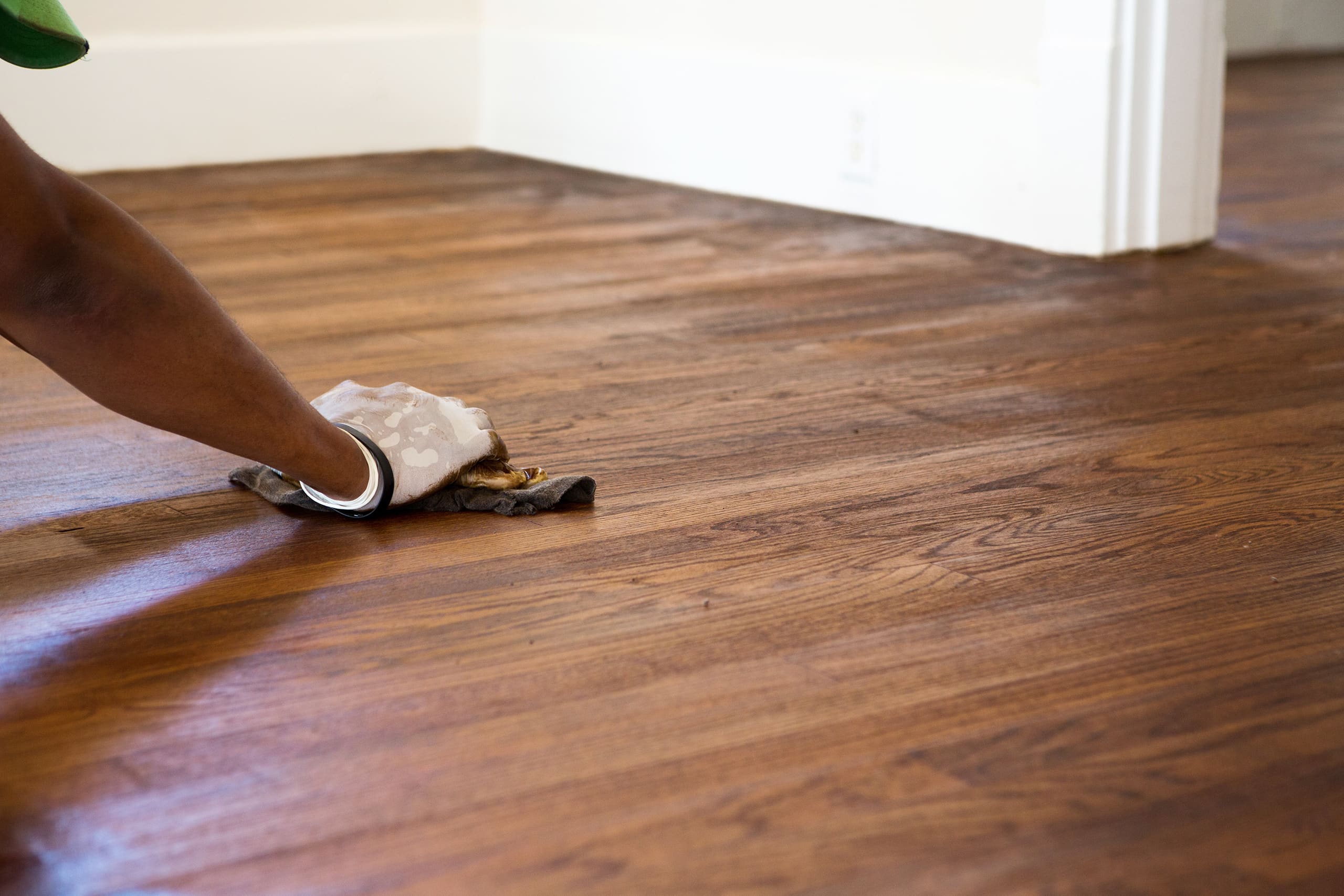 Repair Scratches in Your Hardwood Floor with These Tips
Hardwood floors are a popular flooring option that creates a luxurious, warm feeling in a home.

Hardwood floors can be expensive to install, so if you have wood floors, you'll want to take care of them properly. When you have hardwood floors — and especially if you have pets or children — scratches are inevitable. Even normal wear and tear can take a toll on your floor's finish over time, but you can repair scratches easily and keep your floors looking great with these simple tips!
the first steps
The first step to repairing a scratch on a hardwood floor is to make sure the area is clean. While sweeping will remove some debris, you'll want to make sure the area is thoroughly cleaned. Begin with a quart of water in a spray bottle and add a few drops of dish soap. Spray the area with the soap and water mixture and wipe it with a microfiber cloth. Then, lightly spray fresh water and use a soft, dry cloth to wipe up the water before it seeps into the wood. To keep your hardwood floor in good shape, you don't ever want to get the floor very wet, just damp. You can also sand out scratches with sandpaper. Just be sure to use sandpaper that isn't too coarse and sand lightly and in the direction of the grain.
NATURAL OPTIONS FOR REPAIRING SCRATCHES
If the scratches and damage to your floor aren't extensive, you might be able to create a simple repair kit with items from your kitchen cabinets! Many experts recommend using coconut oil or walnut oil on the scratches. Warm walnut oil in your hands and gently rub it into the scratch. You can also rub coconut oil into scratches. In either case, let the oil sit for a few minutes so that it fills in the scratches, and then buff the area with a soft cloth. Another option is olive oil. Some experts suggest mixing a few drops into baking soda, others recommend mixing equal parts olive oil and apple cider vinegar.
Regardless of the ingredient, you pair it with, the olive oil will work much like walnut or coconut oil and help to fill in any small scratches or scuff marks. Leave the baking soda mixture on for about five minutes. If you use the apple cider vinegar mixture, it can stay on for several hours. With either recipe, buff the area with a soft, dry cloth after applying.
PRODUCTS TO HELP
If your floor has a deep gouge in it or the scratching is extensive, there are several products on the market that can help. The trick is to assess the floor, its finish, and the extent of damage to determine which product will best meet your needs. Smaller, shallower scratches can be virtually erased with a blending pencil. Just be sure to choose a shade that will match or blend well with the rest of your floor's finish. Several well-known wood cleaning products have formulas that are specifically designed to rejuvenate floors and help repair scratches. If you have a deeper gouge, you might have to use a wood filler. These products can be stained or painted like regular wood and are a good option if the floor's damage is deep but confined to a small area.
A LAST RESORT
If your floors have been in place for quite some time and the damage is extensive, you might decide that the options above just won't do the trick. You'll need to strip and sand the floors and refinish them with new stain. Use a wood stripping product that will be able to remove any layers of wax or paint that have built up. Once you've stripped most of the original finish, you might need to remove any excess product with steel wool. But one note of caution: make sure your floors are made of real wood and that they are thick enough to withstand any extensive sanding you might need to do.
STILL NEED HELP? TURN TO the experts
If your floors are old, have multiple gouges, or have several types of damage beyond simple scratches on the surface, you might decide that it's time to replace your flooring altogether. If that's the case, our professionals at Goshen Floor Mart can help. We have more than 25 years of experience in the flooring industry. Our flooring specialists can provide expert advice on how to care for all kinds of flooring. Call 574.642.4770 or contact us here CONTACT

If you're in the market for flooring feel free to contact Goshen Floor Mart. Remember, we are always happy to provide you with a free estimate. Call us today at 574.642.4770 or contact us here