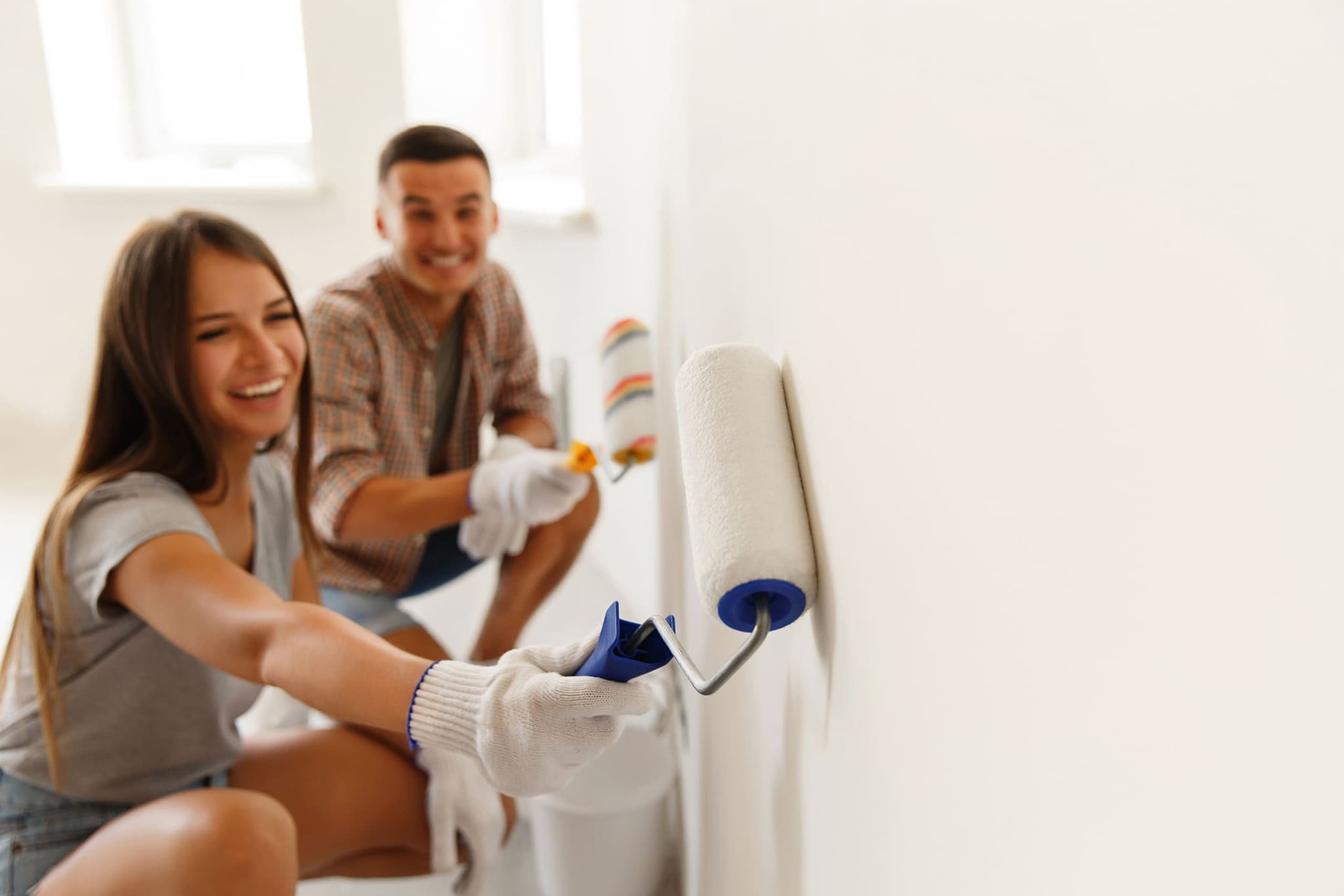 Easy Home Improvement Projects You Can Do Over a Weekend
In an era where most people have an unprecedented amount of free time on their hands, it can feel good to be productive and not squander too much time.

One of the best uses of spare time is to invest in your home with painless projects that improve the look and feel of your living space, especially if they can be completed over the course of a single weekend. There are countless projects that fit within this description, but below are some of our favorites.

Paint The Inside of Your Home
The good news about interior paint projects is that they can be as big as you want them to be —from every wall in your home to coating your front door with a new and vibrant color.

Preparation is the key to success when painting. You'll want to tape trim you don't want to be painted and remove all pieces of furniture from the walls. You also want to purchase the proper supplies, such as the correct primer and a variety of brushes and rollers, to make sure you're able to cover every nook and cranny of your home.

Once you begin, make sure you don't leave paint or wet brushes exposed for too long; otherwise, they will dry out. Also, be careful and avoid lap marks, which occur when wet paint goes over paint that's already begun to dry. On each coat, it's best to overlap as little as possible.

Repair Trim
Most trim is subtle, accenting walls throughout the majority of your home. While it may not stand out to the average guest, it can become an eyesore as it becomes cracked or worn.

An easy solution might be to touch up all the trim in your house, including windowsills and frames, with an all-purpose cleaner. If you need a heavy-duty fix, you may also paint your trim. If there are cracks, holes, or areas of separation from the wall, it's also a good idea to fill those in with caulk, which will have your trim looking as good as new if done carefully.

Setup A Gallery Wall
Rather than hanging up a collage picture frame depicting old family photos and other nostalgic memories, why not create your very own unique gallery wall?

For this project, you'll want several meaningful or beautiful photos of varying sizes. The frames can either match one another or look completely different — just as long as they don't clash. But it's your wall. Design it however you please.

You'll also want the tools to hang frames, a level, and a tape measurer. Instead of just randomly placing photos on your wall, design the layout on your floor first and measure frequently. The good news is if you don't like your initial design, a gallery wall is easy to rearrange.

Remove Grime From Exterior
For some reason, power washing the exterior of your home can seem as if it's a monumental task, but once you get started, it can actually feel therapeutic. There's nothing better than watching as dirt and grime are removed from your siding, which will begin to look brand new again. Make sure to turn the pressure to a low setting so that water doesn't get through the exterior of your home.

You can also power wash your driveway, sidewalks, walkways, and other difficult-to-clean outside areas. But be sure to avoid using a power washer on your car. You don't want to chip any of the paint.

Lay New Flooring
Sometimes, the best way to spruce up an area of your home is to put down new floors. While this may sound like a major undertaking, flooring can often be laid in a single day depending on the materials used and the size of the installation.

There are a variety of options when it comes to new floor materials, including carpet, ceramic /porcelain, hardwood, laminate, and vinyl. Once you have chosen your materials, you'll need to appropriately remove the old flooring and moldings.

It's a good idea to buy 10 percent more flooring than you think you need, just in case. You may make a mistake or cut something wrong. Any extra can be good to have on hand if a particular piece of flooring is damaged later on.

Trust the experts
The professionals at Goshen Floor Mart have more than 25 years of experience in home improvement projects and they're ready to share that knowledge with you. Call 574.642.4770 or contact us here CONTACT

If you're in the market for flooring feel free to contact Goshen Floor Mart. Remember, we are always happy to provide you with a free estimate. Call us today at 574.642.4770 or contact us here