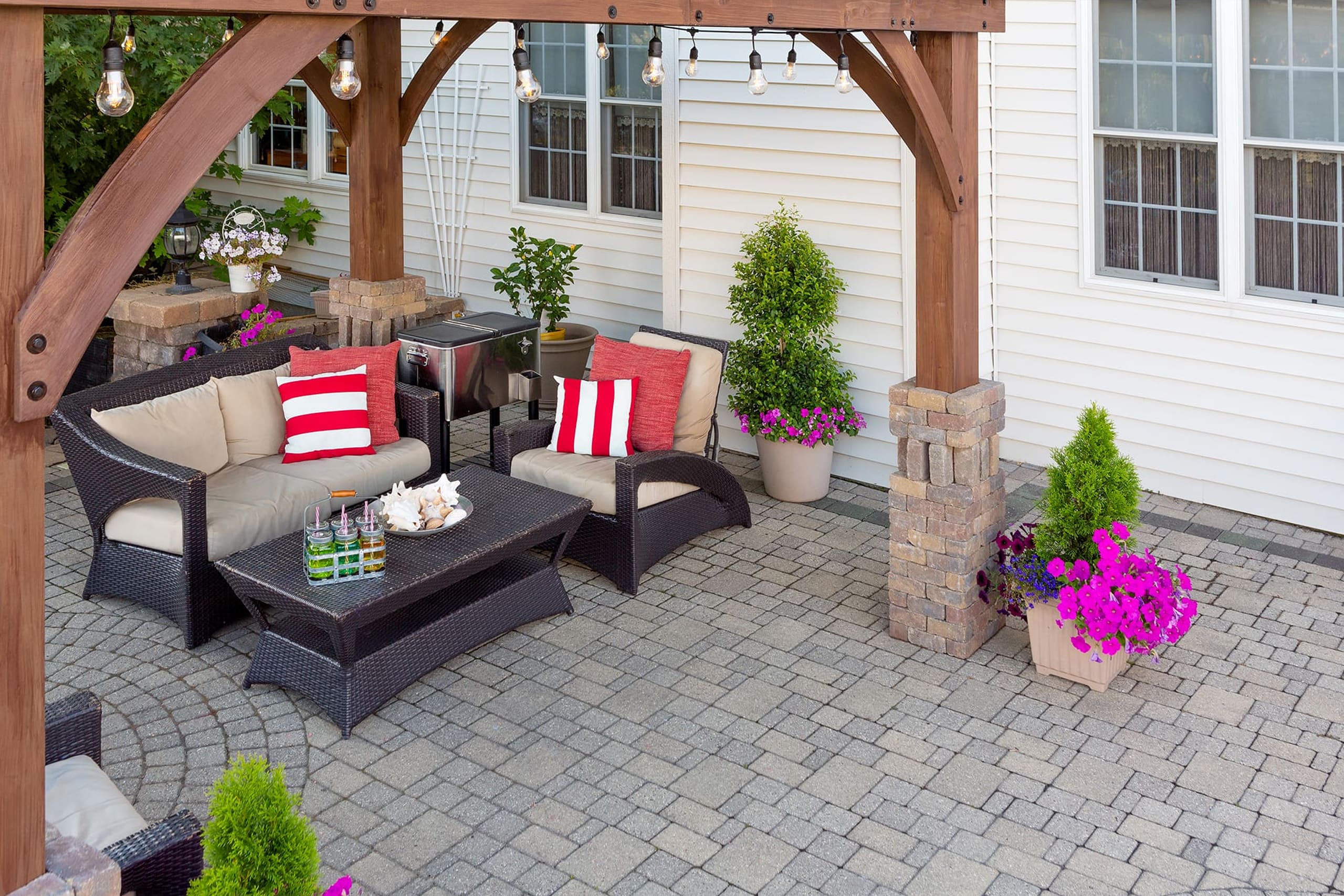 Bring Form & Function to Your Outdoor Flooring
These days, spending quality time outdoors is essential for your well-being. Now is the time to spruce up your outdoor living space so you can enjoy all the benefits of fresh air without needing to leave the safety of your own home. Before we even think about furniture, let's consider the vast options of outdoor flooring available today.

"Depending on your outdoor space," noted Marc Mosness of Goshen Floor Mart, "whether you're designing an outdoor patio or a three-or-four season room, there are plenty of choices to suit your style. More importantly, most of today's options provide that all-important form and function." Are you a young family with lots of littles running around, an empty nester who enjoys entertaining, or somewhere in between? With today's flooring varieties, there's the perfect solution just waiting for you.

Would You Consider Wood?
If you're like most people, wood decking probably came to your mind first. Because it's versatile, traditional wood decking is absolutely a popular and affordable choice for your outdoor living space. While it requires yearly maintenance, you'll love the clean, modern look of the wood, and you never have to worry about it going out of style.

Care-Free Composite Wood Decking
Not a fan of yearly maintenance? Composite wood decking is right up your alley (or should we say patio)? Although a little pricier than the traditional wood decking, you'll love how it looks, year after year with little to no maintenance. If you haven't considered it, do yourself a favor and look at all the options. It's wood without the hassle! Composite decking looks realistic. You can spend more time enjoying it and less time worrying about termites, rotting wood, and keeping it looking good. Did you know it's also fire resistant? Bonus for those bonfires. When the party's over, composite decking cleans up with a little soap and water!

Artificial What?!
If you're a fan of anything HGTV, you already know that many homeowners choose artificial turf as a viable outdoor flooring option. Don't knock it until you've seen it first-hand — it's no longer your parent's AstroTurf! Chances are your neighbor is already donning it, and you can't even tell! Artificial turf, available in various styles, is friendly on those little feet and darn-near maintenance-free! Sell that lawnmower!

Brick By Brick
If your pocketbook is feeling generous, consider brick when designing your outdoor living space. It's one of the most durable options. It is available in a wide variety of patterns and colors — something for everyone! Brick flooring is an ideal partner to the outdoor brick fireplace. It's classy and cozy! Once your brick is down, it's down. No maintenance or worry about coming up with another outdoor flooring option.

Patio-Perfect Porcelain Or Ceramic Tile
You'll be the envy of the neighborhood with a classic stone patio made of tiles. Made to look like real stone, porcelain or ceramic tile options are absolutely gorgeous. They will provide your outdoor space with an upscale look with easy care. With the cold, Indiana winters, tile is better suited for a three-or-four season room as they can become slippery after a good winter storm.

Don't Be So Hard On Concrete
Concrete is versatile, clean, and relatively inexpensive. The beauty of concrete is that you can jazz it up with stamping, staining, or texturing, or simply leave it natural — it's a color that goes with everything!

Rubber Flooring, Seriously!
If you have little, great-looking rubber flooring is an excellent option to consider. You can find choices that look like brick or cobblestone. Yet, it's easy on the feet, it's not slippery, and it's durable, versatile, and absorbent! If your outdoor space includes a pool, rubber flooring has to be in your top three choices!

Outdoor Carpeting
Outdoor carpeting is a great option for patios or your three-or-four season room. It warms up any space and comes in so many fun patterns and designs. It's an inexpensive option with maintenance required. You'll care for your outdoor carpet like any other carpet in your home. Because it's outdoors, you may find yourself replacing it more often.

Trust the experts
The professionals at Goshen Floor Mart have more than 25 years of experience in outdoor flooring and they're ready to share that knowledge with you. Call 574.642.4770 or contact us here CONTACT

If you're in the market for flooring feel free to contact Goshen Floor Mart. Remember, we are always happy to provide you with a free estimate. Call us today at 574.642.4770 or contact us here