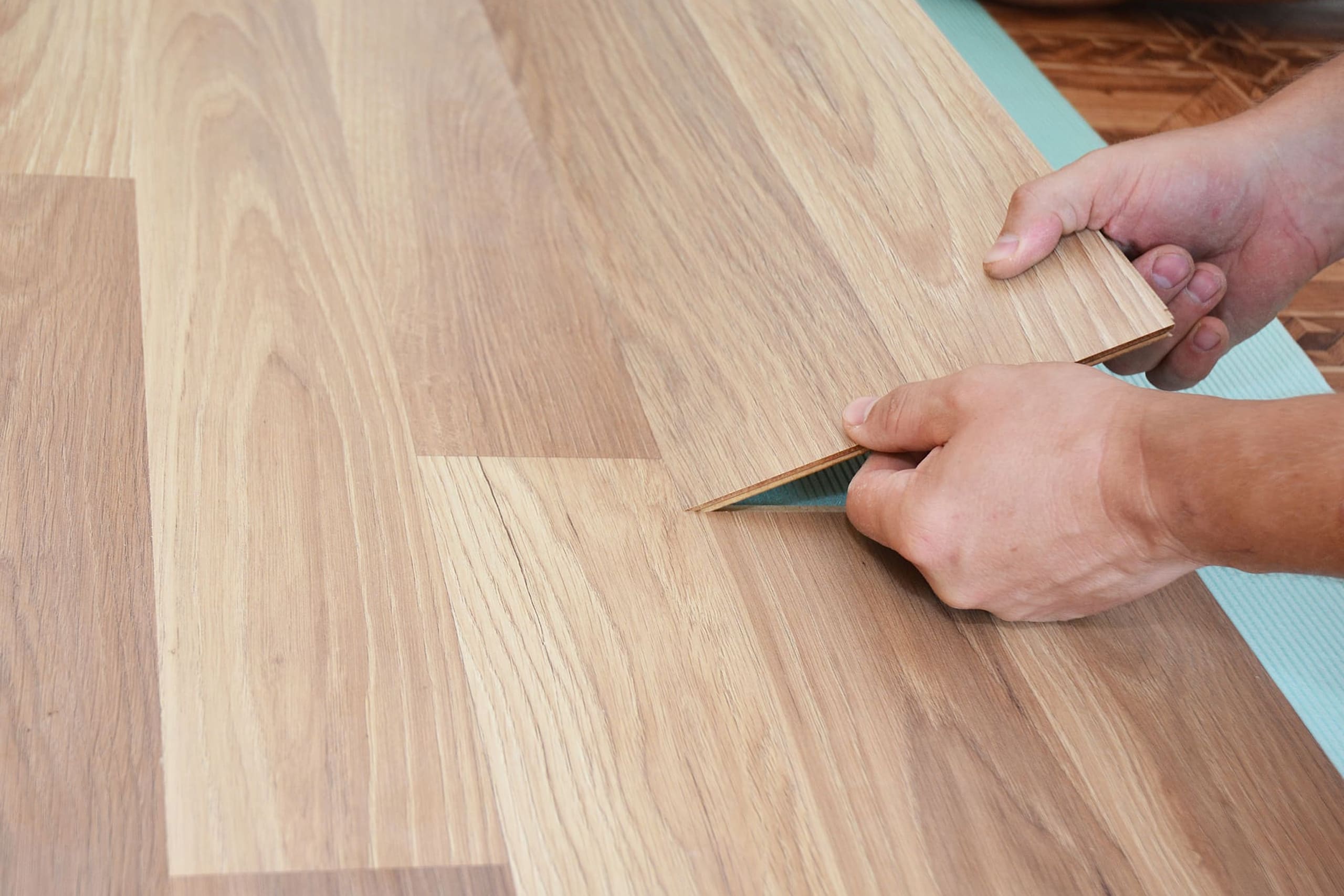 What's The Difference Between Laminate And Vinyl Flooring?
If you're looking for an inexpensive and easy-to-install flooring option for your home, two great options that are very popular are laminate and luxury vinyl flooring. These two types of flooring have a lot in common, but they're certainly not identical. If you're not sure which one to choose for your home, we'll help you figure out the difference between laminate and vinyl flooring and which one is right for you.

MATERIALS
We've gotta talk about this first because this is the biggest difference between luxury vinyl and laminate flooring. While laminate and vinyl are basically constructed the same, laminate has a core made from wood byproducts while vinyl has a completely synthetic PVC core. This key difference could be the deciding factor for you as it dictates where each type of flooring should be used.

Because it's completely synthetic, luxury vinyl is waterproof and doesn't run the risk of being ruined if it's exposed to a lot of moisture (think of a flooding bathroom). Laminate, on the other hand, is only water-resistant (small spills won't affect it much, but a flooding dishwasher will) and might not be the best choice for every room in your home.

APPEARANCE
In general, both laminate and vinyl do a pretty good job of mimicking the look of hardwood and stone flooring. At the end of the day, though, laminate is made from wood, which gives it an advantage over vinyl in the looks department. Vinyl can end up looking a little synthetic despite advances in technology; you may need to be patient to find vinyl that meets your aesthetic preferences.

CLEANING
It's incredibly easy to care for and clean both laminate and luxury vinyl, but they require different approaches. Vinyl is a little more forgiving because it's waterproof. Spills are easily cleaned up and you only need to do a little light vacuuming to keep dust at bay. You can use a wet mop and a mild cleaner to clean up the biggest messes.

Because it's made of wood and is only water-resistant, you don't want to use a traditional wet mop on laminate flooring. Use a dry mop or a broom to keep your floors clean. If you do need to wet-clean the floor, your mop should only be slightly damp – it should feel nearly dry to the touch.

DURABILITY
Both types of flooring run the risk of delaminating over time (laminate flooring is more susceptible to this if it gets too wet). Vinyl is scratch-resistant and is ideal when it comes to withstanding a lot of heavy traffic from things such as kids and pets as it can withstand a lot of heavy traffic. It can be dented over time under the pressure of heavy furniture if the use felt or rubber pads are not used under the legs of furniture. It's incredibly durable, but there's a risk of ripping planks up if the furniture is dragged across its surface. Laminate is also durable and handles traffic well but falls short when it comes to true moisture resistance.

Both products maintain a clean look (with proper care) over the flooring's expected life span as the manufacturers are continuously improving these products.
COST
Laminate and luxury vinyl are pretty comparable when it comes to cost. The price varies, but you're looking at about $1 to $7 per square foot for either type of flooring with about an additional $3 to $10 per square foot for installation.

At the end of the day, the choice is yours, but we can help you make an informed decision. Visit our showroom on U.S. 33 in Goshen to see the wide variety of luxury vinyl flooring options you can use in your home.
Trust the experts
The professionals at Goshen Floor Mart have more than 25 years of experience in picking out laminate and vinyl flooring, depending on what is best for your needs and they're ready to share that knowledge with you. Call 574.642.4770 or contact us here CONTACT

If you're in the market for flooring feel free to contact Goshen Floor Mart. Remember, we are always happy to provide you with a free estimate. Call us today at 574.642.4770 or contact us here