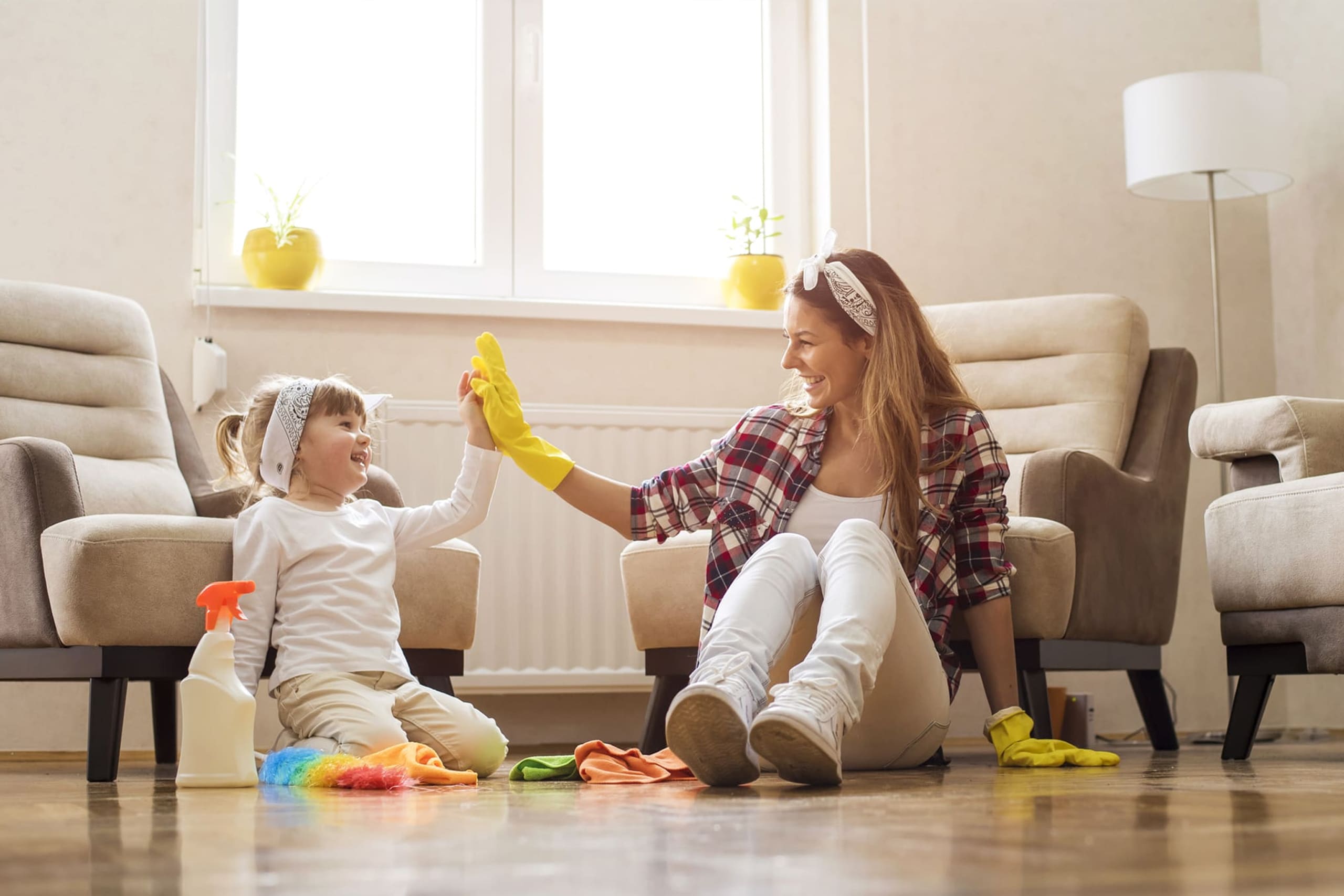 The Ultimate 2021 Spring Cleaning Checklist
The remaining chill days of winter are coming to an end, and a spring refresh is already on its way.

With the warmth of spring comes the opportunity for us to open our windows and let in the clean air and make our homes feel fresh again.

Cleaning in the spring gives us an opportunity to check each room for damages and to spot harmful things like mold and mildew growth. It could also be a factor in deciding if we need to upgrade our decor, add a fresh coat of paint, or replace worn flooring.
We've put together the ultimate spring cleaning checklist to help you go from room to room and make sure your house gets the deep clean that it deserves.
EVERY ROOM
This should almost be a no-brainer, but make sure to sweep, mop, or vacuum all of the floors in your home each spring.

One of the most often neglected spots in any home is the baseboards. Wipe down or vacuum the baseboards. If you haven't done this in a while, you may need to get down and dirty with cotton swabs to get them clean.

Give a good dusting to the light fixtures in every room. Dust your ceiling fans if you have them installed, too.

Most rooms will have curtains or blinds on the windows, so make sure you vacuum them.

Your windows will need a good wash, inside and out. Use a microfiber cloth to get that professionally cleaned look.

If you're able to wipe down and clean your walls, do so. If you have painted walls, be careful not to scrub too hard or you'll rub away the paint.

Make sure you clean your most touched surfaces in every room: light switches, doorknobs, and handles.
ENTRYWAY
This room sees a lot of foot traffic in your house so it may require a little more TLC on the flooring. Thoroughly clean your door and any storm doors. Don't neglect your doormat, either; it's probably gone through the wringer with snow and dirt during the winter season. If you haven't installed any shelving or hooks for shoes, coats, and other essentials, now is the time to think about adding them. If you do have them, check if they need to be repaired.
KITCHEN
This is undoubtedly one of the most used rooms in your home, and it also sees some of the biggest messes (or are we the only ones that have cooking disasters…?).

Now is the time for a deep clean on all of your kitchen appliances: the stovetop, oven, dishwasher, refrigerator, and microwave.

Pay extra attention to your fridge and pull everything out (and make sure nothing is growing green, with fuzzy bits) to clean all of the shelves and drawers. Check your freezer, too, and defrost it if ice has started to form more than one-half-inch thick. Clean and check the seal on your fridge and freezer. While your fridge is empty, pull it away from the wall and vacuum dust from the coils, clean the floor underneath and inspect the floor for any damage.

Clear your countertops of clutter and thoroughly sanitize them. Dust high places like cabinet tops and above the fridge. You may also need to degrease the cabinets near the stove to remove built-up grease from cooking. Inspect and replace any wash rags that have neared the end of their lives.
DINING ROOM
Your dining room will require a little more delicate care than other rooms in your home. Put your table linens through the laundry and give them a press to keep them looking fresh. Your chair cushions may simply require a bit of vacuuming, but now is the time for spot cleaning to get rid of pesky stains.

If you have a cabinet with fine dishes, now is the time to dust the entire cabinet and give the dishes a good cleaning, especially if they require special care such as polishing silverware. Shampoo your carpet to give it a deep clean.
BATHROOM
We know you're dreading this one.

The big things like the shower, tub, sink, and toilet are definitely on the list. Try to clean these throughout the year so it's not too overwhelming in the spring. If you have lime buildup on your faucets or showerhead, give them a good soak in a vinegar-water solution to help break down the lime and make cleaning easier. Check and replace your shower rod and liner and repair or replace if necessary.

Go through your medicine cabinet and clear out any outdated medications (disposing of them properly) and discard any old or used-up personal care products. Wipe down and clean any mirrors or vanities, too. If you have tile flooring, scrub the grout and get back to looking clean. If you've got bathmats, wash them or stick them in the laundry if you're able.
LAUNDRY ROOM
This is a room that sometimes gets neglected on the cleaning schedule because, well, we use this room to get things clean.

Clean your washing machine. That's right, even the washing machine needs to be cleaned. While your dryer doesn't need to be cleaned, it does need a little maintenance. Clean out the dryer vent at the back of your dryer and on the outside of your home; lint tends to collect here and can start a fire if it ignites. Take inventory of your cleaning supplies and reorganize them if needed.
BEDROOM
Spring is the perfect time to go through and organize your closets. Get rid of any winter clothes that you didn't wear in the last six months and donate items to charity — this includes shoes and ties that you have no intention of wearing ever again (be honest with yourself here).

Wash all of your bedding and switch over to warm weather sheets. Flip your mattress to prevent excess wear on the springs (if you have a pillow-top mattress, turn it instead). If you have carpet in your bedroom, now is a good time to shampoo it. Disinfect any children's toys.
LIVING ROOM
Dust and polish the furniture in the living room to give it a fresh look. Your chairs and sofas will need a good vacuuming; make sure to pull off the cushions and get into the cracks and crevices. Give your TV a good once over by dusting it and any other electronics. Wipe down and sanitize any remote controls while you're at it. Like the dining room and bedrooms, if you have any rugs or carpeting in your living room now is the time to give it a good shampoo.
OFFICE
If you've been living the work-from-home life, chances are that your home office has been getting a lot more use in the last year. This room is all about getting reorganized and cleaning electronics.

Look through your paperwork and recycle any old documents that you no longer need. Dust your electronics in the room and sanitize your mouse, keyboard, and phone. Dust and polish the furniture in your office, and vacuum and clean your office chair.
GARAGE
Chances are that your garage has pretty much stayed closed the entire winter in order to conserve heat. Find a nice, warm day and open that bad boy up to air it out. Sweep the floor and inspect it for major cracks. Clean your garage door (inside and out) and the garage door frame. Look for spots of clutter and reorganize any tools, sporting equipment, or hardware you didn't put away during the winter.
Trust the experts
The professionals at Goshen Floor Mart have more than 25 years of experience in spring cleaning and they're ready to share that knowledge with you. Call 574.642.4770 or contact us here CONTACT

If you're in the market for flooring feel free to contact Goshen Floor Mart. Remember, we are always happy to provide you with a free estimate. Call us today at 574.642.4770 or contact us here