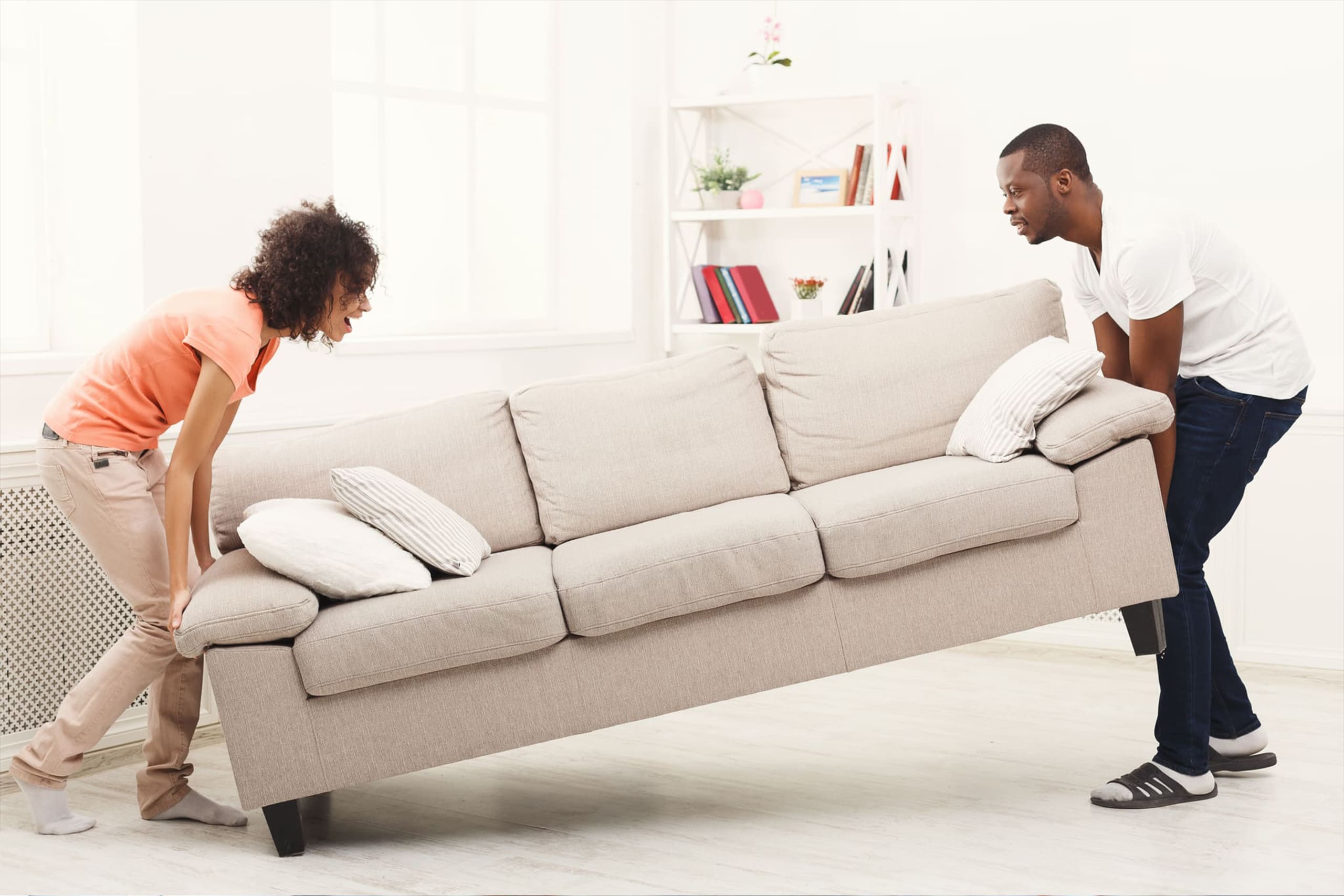 GETTING NEW FLOORS? HERE'S WHAT TO DO WITH YOUR FURNITURE.
You've picked out the flooring of your dreams and it's going to match your room design and every piece of furniture in it.
Now you have to get your flooring installed, and that means moving your furniture out of the way. But, what should you do with your furniture in the meantime? Let's take a look at a few of the options at your disposal that can make your new flooring installation as painless as possible.
CONSIDER THE JOB
Before you go about the process of moving your furniture around, there are a few things you may want to consider. Figuring out the answers to these criteria can help inform your decision about what to do with your furniture.
How Big Is The Project?:
Are you updating the flooring in one room? Two? The entire house? The bigger your flooring project, the more detailed strategy you'll need to deal with your furniture. Understanding the scope of your project is instrumental when choosing between moving furniture around or renting storage.
How Long Will It Take?:
If you're looking at a one-day job then you might get away with moving furniture around your house into temporary spaces. If you're going to have a room torn apart for several days or even weeks, then you have to choose between stumbling over tightly packed furniture for a while or having external storage.
What's Your Budget?:
If you've got a big flooring project and a big budget, then maybe hiring movers and temporary storage is the right call. If you're working with a smaller budget, you may have to live with a cramped house for a bit.
What Else Needs To Be Moved?:
Consider any other things in the room that may need to be moved out of the way. Delicate items that hang on the wall should be removed (think breakable items like mirrors, televisions, and wall art). Appliances like your fridge and your washing machine may also need to be disconnected and moved.
STORAGE OPTIONS
Use Another Room:
This is the simplest and most inexpensive option when it comes to playing musical furniture. If you have a small project and not a lot of furniture to move, this is your best bet. You may have to move the furniture around a lot, and your living quarters may be cramped for a bit, but this is the best option for small flooring jobs.
Store It Outdoors:
If you've got a garage or a shed, you might be able to temporarily store your furniture there. Your house won't be as cramped with this option, so it's a step up from moving your furniture into another room. Make certain that any outdoor space where you store your furniture is waterproof and secure so it doesn't get ruined. This is a temporary fix and isn't great for long-term flooring jobs.
Rent Storage Space:
If you're looking at a large-scale flooring job, a long-term job, or you don't have a lot of space, renting storage may be your best option. If you've got the budget for it, consider hiring movers to help you get your furniture out and into storage (and back into your home!). This is the most convenient and most expensive option for moving your flooring.
GET MOVING WITH GOSHEN FLOOR MART

If you're ready to make the move on updating your flooring or installing new flooring, the team at Goshen Floor Mart is ready to get you going.

With more than 25 years of experience, we know a thing or two about helping people find the perfect flooring. Stop by the showroom at 65669 U.S. 33 to browse one of the largest flooring inventories in the area, or call 574-642-4770 to talk with a flooring specialist today.

If you're in the market for flooring feel free to contact Goshen Floor Mart. Remember, we are always happy to provide you with a free estimate. Call us today at 574.642.4770 or contact us here