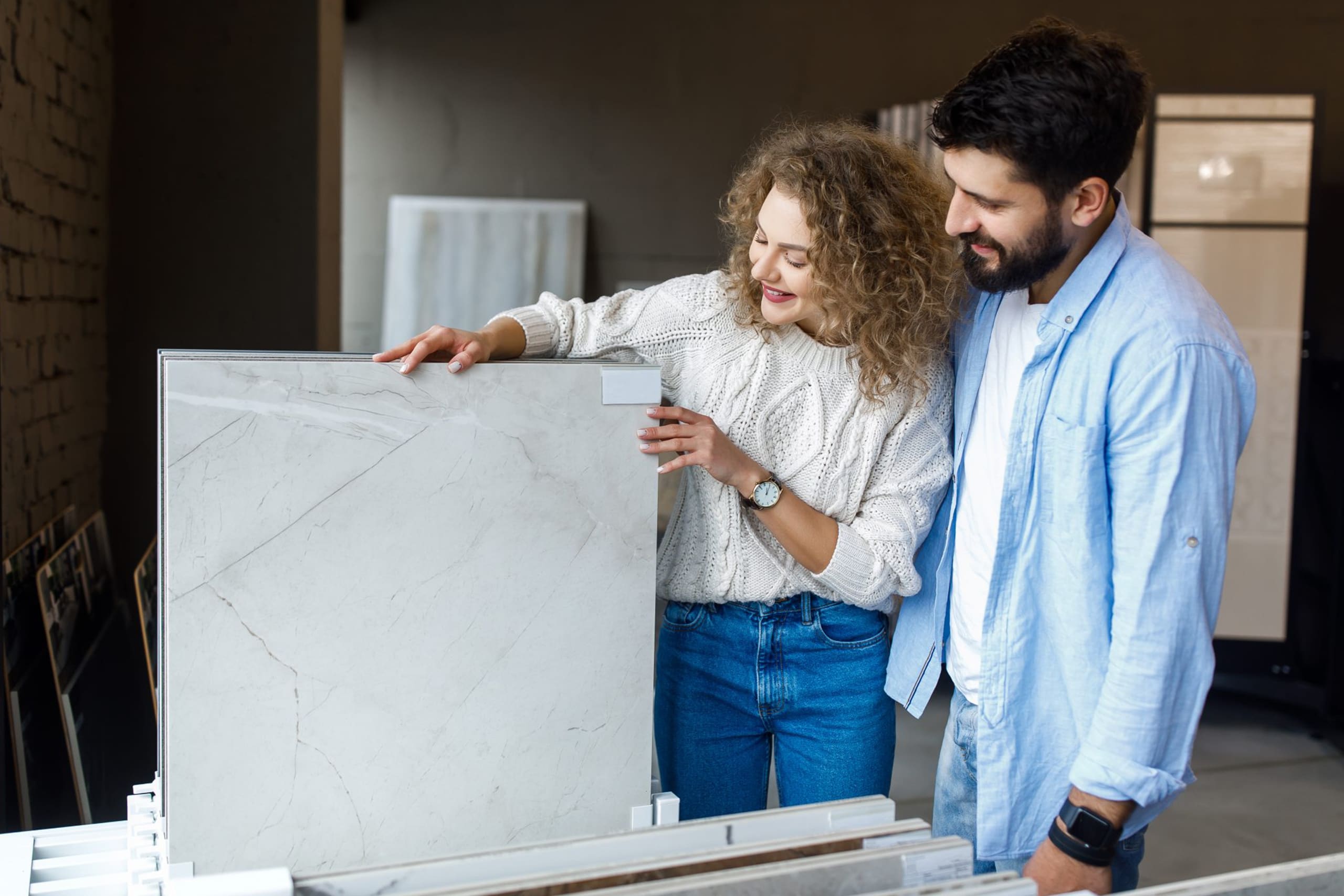 9 QUESTIONS TO ASK BEFORE BUYING A NEW FLOOR
Shopping for flooring is an exciting time, but there are a lot of options out there to choose from.
Before you buy new flooring, there are some important questions you want to ask to make sure you are buying the best option for your home. Here's a breakdown of what you need to think about before you buy that new floor.
WHAT ROOM IS THIS FOR?
The type of flooring you install in your home can be incredibly dependent on the room it's going in. If you're putting flooring in the kitchen or a bathroom then waterproofing may be your greatest concern. If you're flooring your bedroom, you may be more concerned with something that keeps your feet warm. Think carefully about how the room will be used and if there are any special considerations you need to make.
WHAT'S THE CLIMATE LIKE?
The climate can have a lot to do with the choices you may need to make about your flooring. If your flooring will be exposed to the elements, like rain or snow, then flooring with poor waterproofing won't be a good choice.

Your indoor climate can influence your flooring, too. High humidity in areas like a bathroom can cause wood to warp and carpet to mold, and the sun can cause fading or put excess heat pressure on flooring in a sunroom.
WILL IT FIT YOUR STYLE?
If you're not going with an identical replacement of your flooring, you need to think about how it will affect the interior style of the room. The color of your flooring, its texture, material style, and the visual lines it draws all influence how your new flooring will make the room feel. Consider, too, if the visuals of your flooring will fit in with or be altered by your furniture and wall decorations.
ARE THERE SAMPLES AVAILABLE?
Choosing flooring is a big commitment. Materials may sometimes look good online or in the store, but when you've got them in your home, they don't quite work the way you thought. Before selecting your new flooring, ask to take a flooring sample home. You'll be better able to visualize how it will look with your overall decor and if it coordinates with your room.
HOW MUCH CARE IS NEEDED?
You need to decide early on how much time you want to spend maintaining your floor. Hardwood floors are going to require a lot more intense maintenance to keep them looking beautiful, while laminate flooring should only need an occasional light sweeping. Ask yourself how much work is involved in the cleaning and upkeep of flooring and how much work you want to do.
DO YOU HAVE PETS OR CHILDREN?
Children and pets don't mean to be tough on floors, but they can put a lot of wear on just about any flooring. If you've got pets and/or children, you want to look at options that are durable, scratch-resistant, and water-resistant. Flooring styles like tile and laminate are great pet-friendly choices, among others.
DOES ANYONE HAVE ALLERGIES?
If you have family members who have allergies you may be looking straight past carpet and start looking at hardwood floors. Hardwood floors trap fewer bits of dust, pollen, mold spores, and pet dander, and what is there is easily swept away. Carpet has the potential to hide allergens in its fibers, so you may be doing a lot more vacuuming if someone in your house has allergies.
WHO WILL INSTALL THE FLOOR?
Determine if you're able to install your new flooring yourself or if you're going to need the help of a professional. Many types of laminate and vinyl planks are simple to install yourself directly on top of another type of flooring. Flooring like ceramic tile and hardwood is going to require a lot of know-how to make sure it's installed properly. Be honest with yourself about your technical abilities and know when it's time to call in the pros.
WHAT'S YOUR BUDGET?
Installing new flooring can incur extra costs, such as the need for new baseboards or a new subfloor. If you decide to go with hardwood flooring and need a professional installation, make sure to factor in the additional expense.

You'll also need to consider the cost of delivering your flooring, the cost of removal of your old flooring, and any specialty items specific to your new floor such as stains and adhesives.
VISIT GOSHEN FLOOR MART TO FIND THE PERFECT FLOORING FOR YOUR HOME
Our experts are ready to help you find the right type of flooring that fits every room in your home.

The professionals at Goshen Floor Mart have been matching families with the perfect flooring for their lifestyle for more than 25 years.

Stop by the showroom at 65669 U.S. 33 to browse one of the largest flooring inventories in the area or call 574-642-4770 to talk with a flooring specialist today.

If you're in the market for flooring feel free to contact Goshen Floor Mart. Remember, we are always happy to provide you with a free estimate. Call us today at 574.642.4770 or contact us here