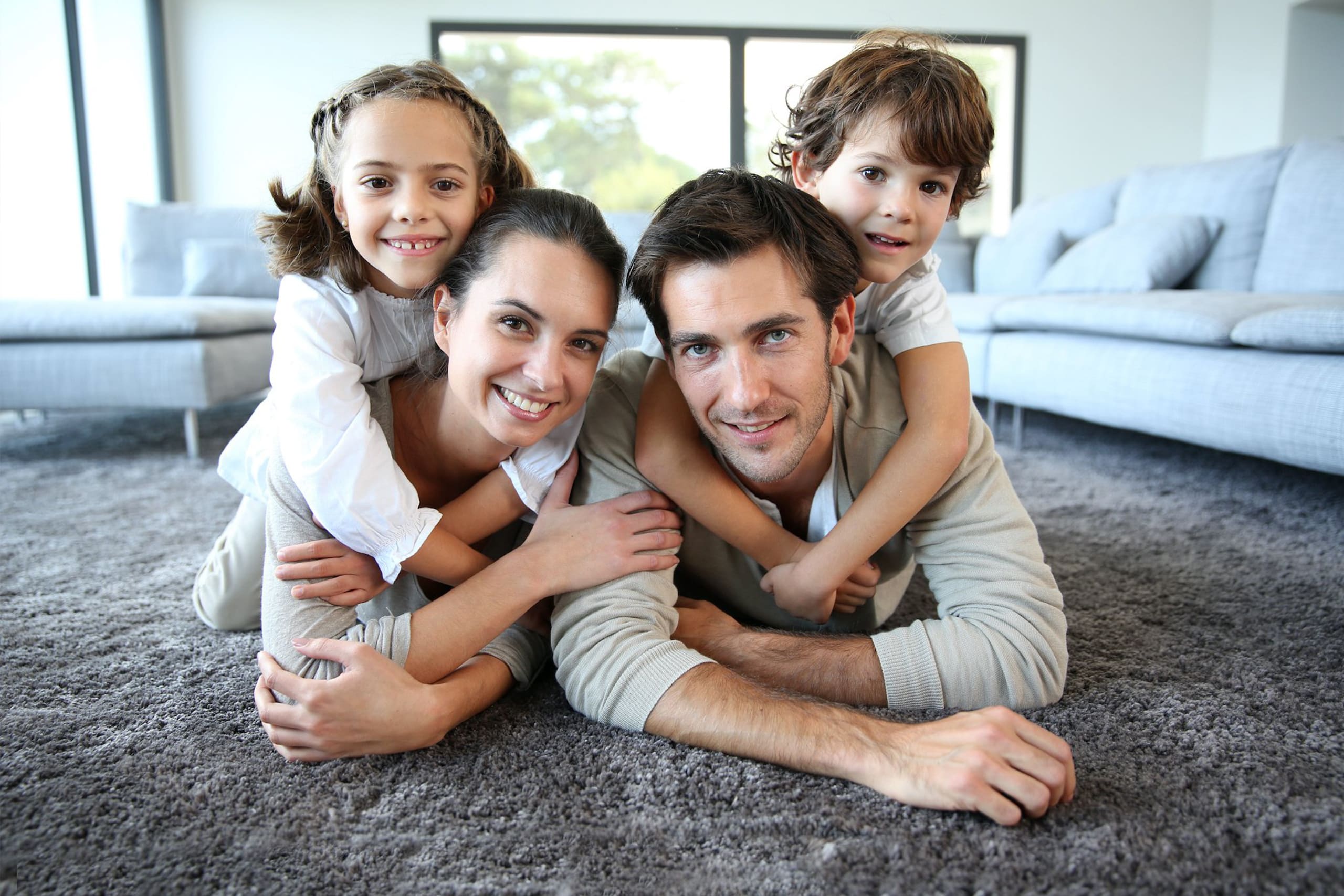 Choosing the right carpet for the right room in your home is a more complicated task than it may first seem.
While some rooms are obvious candidates for other types of flooring — maybe skip carpeting your kitchen or bathroom — the kinds of carpet that work best for other rooms may not be so obvious.

Each room in your home serves a different function and sees a different amount of traffic and use. If your carpet is nearing the end of its life, it might be time to think about replacing it. Let's break down the different fabrics of carpet and the different piles and where they're best suited in your home.
CHOOSING FABRIC
The fabric you choose will be a deciding factor when it comes to the performance and appearance of your carpet. Fabrics come in natural, synthetic, and blends, which have an effect on the softness, durability, and stain resistance of the carpet.
Wool
Wool is a natural fiber that's been used in carpeting for more than 200 years in the United States. It's a durable, stain-resistant material that's comfortable and warm to walk on or lay on. However, wool is prone to fading if it's subjected to direct sunlight over a prolonged period of time.

While wool is tough and can stand up to high-traffic areas, it comes at a cost — literally. Wool can be expensive to install. Coupled with the fact that it requires professional cleaning, it may not be ideal for the most high-traffic areas in your home. It is, however, absolutely ideal for low-traffic areas and/or high-visibility areas of your home such as a master bedroom or a formal living room.
Nylon
Nylon is one of the most popular synthetic materials when it comes to carpets. It's strong and resistant to mold, mildew, and crushing. Like wool, nylon has poor resistance to sunlight. Nylon is a great carpeting material for high-traffic areas. It works well in hallways, children's bedrooms and playrooms, basements, and living rooms.
Polypropylene
Polypropylene carpet is also known as olefin. This synthetic fiber has been traditionally used in outdoor settings because it's highly resistant to moisture.

Nowadays it's also used indoors, and its moisture resistance makes it ideal for areas with the potential to run into water. This material is low-cost and simple to maintain. Overall, though, it's less durable than nylon. Polypropylene is ideally suited for low-traffic areas and areas where there's a high potential for moisture or spills. It works well in guest bedrooms, basements, and screened-in porches.
Polyester
Polyester is a tough and durable carpet that is uncompromising when it comes to its style. Spills and moisture are of little worry to polyester carpets as it's resistant to both. It always is resistant to visible wear and has decent resistance to fading from the sun. Polyester is a good all-around carpet that does well in moderate- and low-traffic areas in your home. It works well in formal dining rooms, studies, living rooms, bedrooms, and playrooms.
CARPET PILE
Pile refers to the way that the carpet fibers are structured by the manufacturer. Depending on the carpet pile, your carpet can more easily hide dirt, or it may wear better under heavy traffic, or it may be softer and provide more noise suppression. Let's cover the different types of piles.
Cut Pile
The durability of cut pile carpeting is related to which fiber the carpet is made from, the density of the fibers, and the number of twists made in the fiber. Cut pile comes in several different styles, which have their own pros and cons.
Saxony:
Fiber ends are cut evenly on Saxony-style carpeting and they are tightly packed, which gives it a smooth appearance. It has a soft and luxurious feel, but the fibers can be easily torn out and it doesn't wear as well as other styles. It's great for use in living rooms and dining rooms.
Textured:
The fibers in textured carpet are twisted and then cut, which makes it feel soft. The tight twists also offer durability and stain resistance. The lengths are varied, which offers a lot of depth of appearance. This is a great choice for the entire house, but it's particularly well suited for family rooms and bedrooms.
Frieze:
This is more popularly known as shag carpet. The fibers curl out, which makes the carpet look sturdy, but in reality stress from heavy traffic can wear the fibers out. Footprints and vacuum marks are minimized with frieze carpet, but the long strands make it difficult to clean up spills. It's a good choice where you have a moderate amount of traffic, or where spills and stains won't be an issue.
Loop Pile
Loop pile carpet is constructed by bending the fabric into sets of loops. This creates a style of carpet that's durable and resistant to stains, though it lacks the cushioning of cut pile carpet. This type of pile wears well because the tips of the fabric aren't exposed, which makes them great for high-traffic areas.
Berber:
Berber is a style of level loop pile, but it deserves special mention because of its popularity. This type of pile is durable and built to last. It has shorter loops, which allows it to stand up well in high-traffic areas of your home. It's ideal for stairs, hallways, and basements.
Level Loop:
Level loop carpet uses short, evenly measured loops that are consistent across the entire piece. The tight loops allow it to be extremely durable and fairly stain-resistant. It tends to lack a little in style and cushioning compared to other piles. Level loop will last a long time in high-traffic areas, so consider it for hallways, stairs, and basements.
Multi-Level Loop:
The loops in a multi-level loop carpet are manufactured to be at varied heights across the carpet. It allows you to have a carpet with different designs with multiple textures that change over time. This carpet has good durability but shines by adding dimension to a room. Multi-level loop carpeting is ideal for family rooms and hallways.
Cut-And-Loop Pile
Cut-and-loop pile is a combination of both of the styles above. It allows for a variety of different designs using the two different styles, creating things like squares, chevrons, and swirls in your carpet. Generally, it's multi-colored, which helps hide stains.

This type of carpet is comfortable and elegant, which makes it a nice addition to any room in your home. Its patterns and designs are meant to be shown off, though, so it's perfect for family rooms, bedrooms, and home offices.
GET NEW CARPET WITH GOSHEN FLOOR MART
No matter what room in your home you need to carpet, Goshen Floor Mart is ready to help you find the perfect flooring. From wool to nylon, cut pile to loop pile, and everything in between, we'll help you find the style and colors that fit your needs.

The professionals at Goshen Floor Mart have been matching families with the carpet of their dreams for more than 25 years. Stop by the showroom at 65669 U.S. 33 to browse the largest flooring inventory in the area, or call 574-642-4770 to talk with a flooring specialist today.

If you're in the market for flooring feel free to contact Goshen Floor Mart. Remember, we are always happy to provide you with a free estimate. Call us today at 574.642.4770 or contact us here