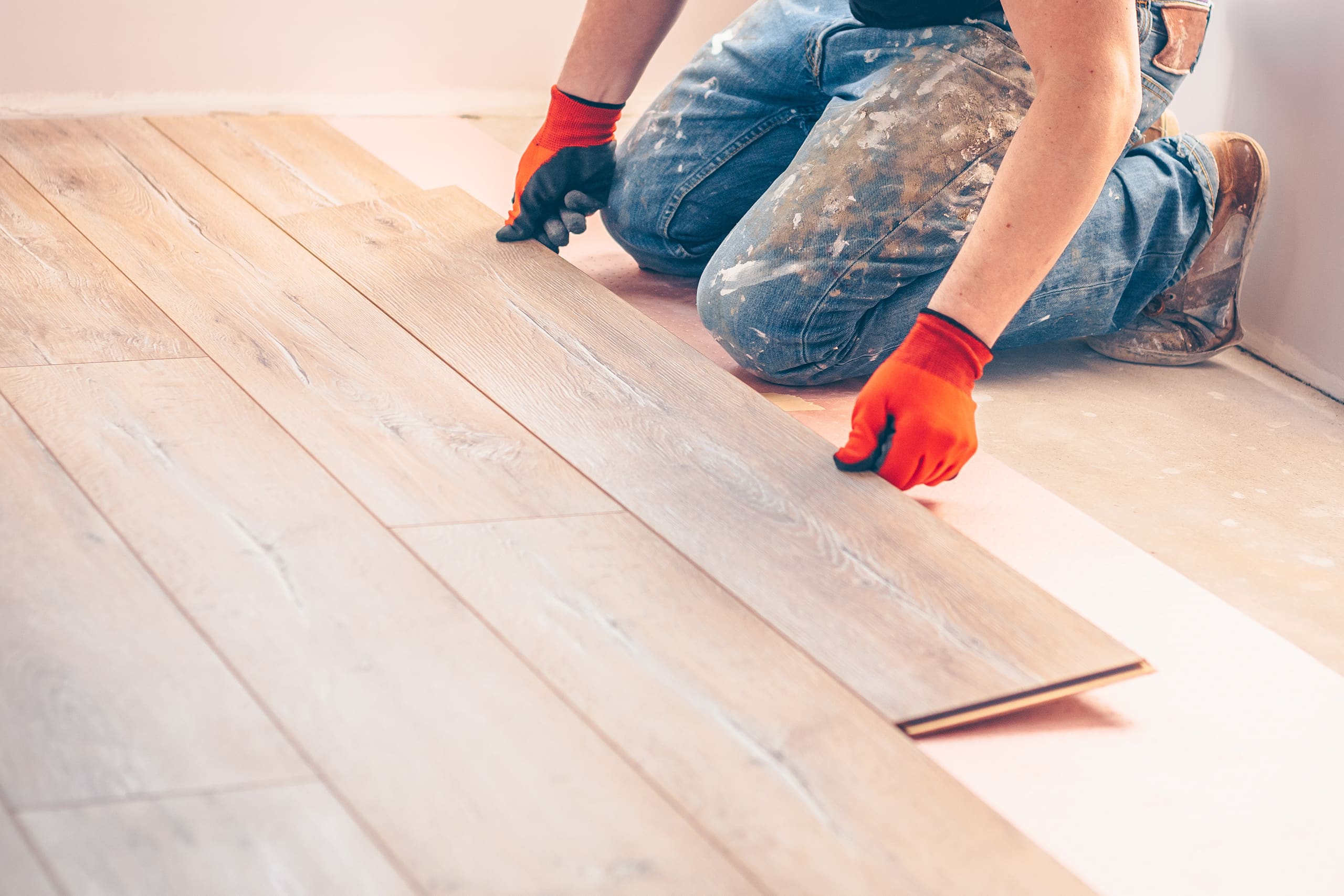 If you're installing new floors in your home, there are a few things you need to know about.
Not all flooring is created equally, and some are much more challenging to install than others. If you feel at all uncomfortable about installing flooring, it's better to hire a professional.
However, some flooring like laminate is much more forgiving and simpler to install as a DIYer.

You don't want to spend all that money to get new flooring just to ruin it before you even begin to enjoy it! Keep these tips in mind so you can make sure you get it done right the first time.
REMOVE YOUR FURNITURE AND APPLIANCES
We get it, furniture is cumbersome. What's even worse than trying to move your big, heavy furniture is to try to move it while simultaneously laying down flooring.

If you've got a big job you may need to rent additional space, and you may even need to hire professional movers. Some homeowners will be able to easily disconnect the hookups for any gas appliances, but if you feel uncomfortable it's best to bring in a professional. Arrange to have your large appliances moved or removed from the room just as you would furniture.
WAIT TO INSTALL YOUR FLOOR
Yes, you've just bought that new hardwood floor, and you're an eager beaver ready to get it installed, but patience is a virtue.

Some types of flooring (especially hardwoods) need time to acclimate to your house before they're installed. If you allow your flooring time to adjust to the new environment, you can avoid warping issues and your installation will go much more smoothly.

Humidity in the air can cause similar problems, so installing hardwood floors in the spring or fall is best.
REMOVE YOUR EXISTING FLOORING AND CHECK YOUR SUBFLOOR
It can be tempting to save time and energy by laying your new flooring over your old flooring.

Laminate in particular is forgiving and can compensate for unevenness in the floor below it, which makes it attractive to lay over existing flooring. However, if you don't remove your current floor, you won't be able to inspect the subfloor, which can lead to issues down the road.

The cornerstone of every good home is a solid foundation, and the same is true for your floor. Rip your old flooring out, inspect your subfloor, and prepare it so that you have a level (and stable) surface on which to install your new floor. Each type of flooring requires different preparation, so make sure you understand what you need to do to the subfloor to properly install your new flooring.
REMOVE DOORS, TRIM, AND BASEBOARDS
Once you start laying out the flooring, the last thing you want is to run into issues fitting it in place. Remove all baseboards, air return covers, registers, and doors that might get in the way so that you can focus only on the flooring.

Take care not to damage your wall or the molding when you're removing it, especially if you plan to reuse it when you're finished.
PLAN THE LAYOUT OF YOUR ROOM
You don't want to get to the end of your flooring project only to find out all of your floorboards are slightly crooked, or that you need an impossibly shaped piece of tile. Take the measurements for your room at least twice to ensure that you won't run out of material due to miscalculations.

If you're able, lay the flooring down from wall to wall to get a visual idea of how it will look in the room. You may find that you need to lay out your flooring in a different direction or pattern.
VISIT GOSHEN FLOOR MART
Are you thinking about your next flooring project? Visit our showroom at 65669 U.S. 33 in Goshen to discover our wide selection of flooring options.

Our friendly staff at Goshen Floor Mart will help you find the right type of flooring for any room in your home. Call us at 574-642-4770, and we'll be happy to discuss your flooring needs.

If you're in the market for flooring feel free to contact Goshen Floor Mart. Remember, we are always happy to provide you with a free estimate. Call us today at 574.642.4770 or contact us here